Medina of Fez is a UNESCO World Heritage Site and one of the most popular tourist destinations in Morocco. Located in the north-central region of the country, Medina of Fez is a walled city that is home to some of the best preserved Islamic architecture in the world.
Getting There:
The easiest way to get to Medina of Fez is by plane. There are several airports in the region, including Fez-Saïs Airport, Rabat-Salé Airport, and Casablanca Mohammed V International Airport. From these airports, you can take a taxi or bus to Medina of Fez.
Accommodation:
There are many accommodation options in Medina of Fez, from budget to luxury. Many of the traditional guesthouses and hotels are located within the walls of the Medina, giving you a unique experience of the city.
Things to Do:
Medina of Fez is a great place to explore the history and culture of Morocco. Start your exploration at the Bab Bou Jeloud, the main gate of the city. Then, wander the narrow streets of the Medina, taking in the sights, sounds, and smells of the city. Visit the Bou Inania Madrasa, one of the most beautiful Islamic schools in the world. Other attractions include the Nejjarine Fountain, the Karaouine Mosque, and the Moulay Idriss Mausoleum.
Food and Drink:
Medina of Fez is a great place to sample traditional Moroccan cuisine. Head to the local markets for some delicious street food, or visit one of the many restaurants in the city. For drinks, try a cup of traditional Moroccan mint tea.
Safety:
Medina of Fez is generally a safe place to visit, but it's always a good idea to be aware of your surroundings. Avoid carrying large amounts of cash, and keep your valuables safe. Be aware of pickpockets and scams, and always keep an eye on your belongings.
Events and Festivals:
Medina of Fez is home to a variety of festivals and events throughout the year. The most popular is the Fes Festival of World Sacred Music, which takes place in May and features performances by international musicians. Other festivals include the Fes Festival of Sufi Culture, the Fes Festival of Andalusian Music, and the Fes Festival of African Cultures. In addition to these festivals, Medina of Fez also hosts a variety of cultural events, such as art exhibitions, film screenings, and traditional music performances.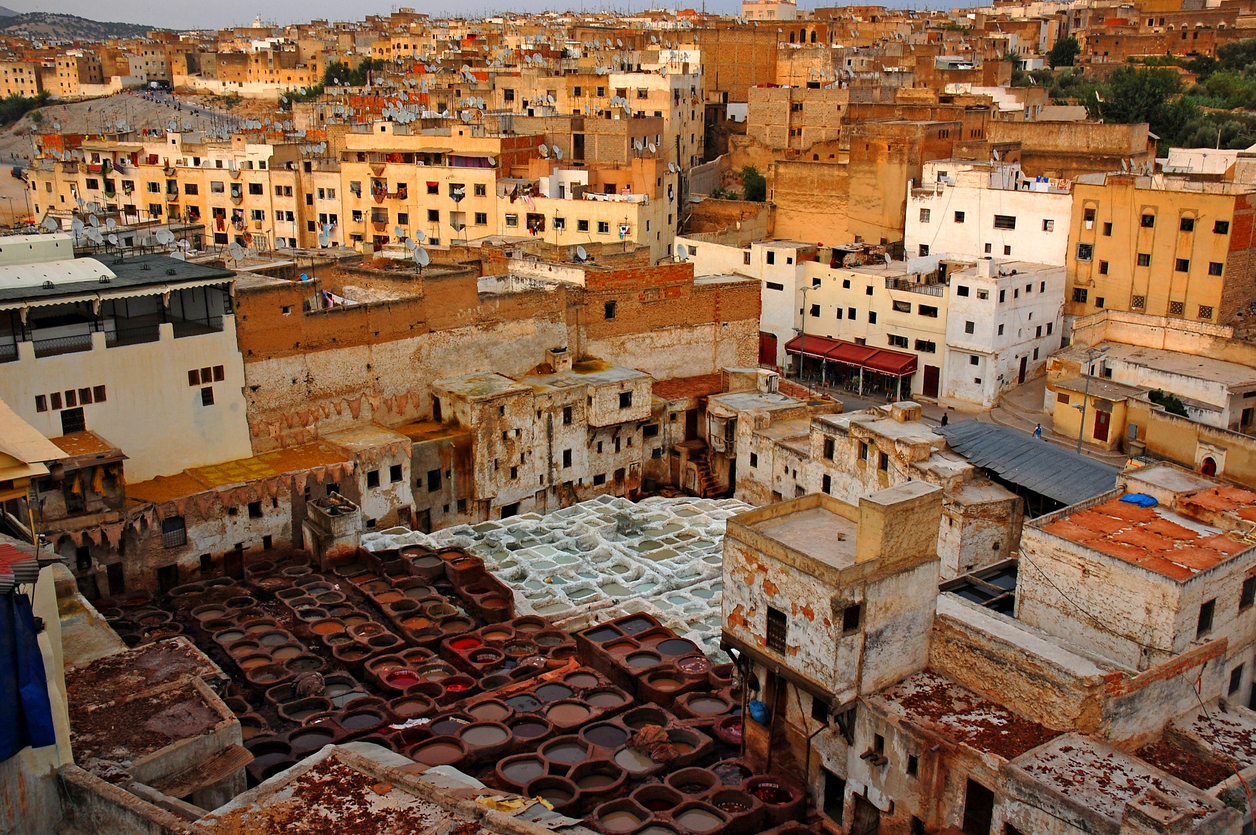 Additional Section:
Shopping:
Medina of Fez is a great place to shop for traditional Moroccan souvenirs. Wander the winding streets of the Medina and explore the many markets and shops. Look for traditional carpets, leather goods, pottery, and jewelry. Bargaining is expected, so be prepared to haggle for the best prices.
Nightlife:
Medina of Fez also has a vibrant nightlife scene. Head to one of the many bars and clubs in the city and experience the unique atmosphere of the city after dark. Enjoy a drink and listen to traditional Moroccan music, or take in the live performances of local musicians. There are also plenty of cafes and restaurants that stay open late, so you can enjoy a meal or a snack after a night of partying.
Fez Medina is an incredible destination for travelers looking for an authentic Moroccan experience. The medina is a UNESCO World Heritage Site and home to some of the most stunning architecture and culture in the world. With its narrow, winding alleyways, vibrant markets, and ancient monuments, the Medina of Fez is an ideal destination for travelers of all ages. Whether you're looking for a cultural experience, a shopping adventure, or simply a chance to explore a unique and beautiful city, Fez Medina has something for everyone. So, what are you waiting for? Pack your bags and get ready to explore the Medina of Fez!
To search for flights: https://aviasales.tp.st/BpZVTmNB
To search rent a car: https://discovercars.tp.st/zlth7VUe
To search for hotels: https://hotellook.tp.st/rTRN8i1V
To search for bike rental companies: https://bikesbooking.tp.st/MP1Prirj
For insurance: https://ektatraveling.tp.st/UsFCGShY
Adventures in cities: https://www.getyourguide.com/?partner_id=1IFTBRR&utm_medium=online_publisher&placement=%22other%22
There are many benefits to using these services, whether you're booking a flight, hiring a car, or exploring new destinations. Here are just a few reasons why you should choose us:ň
Convenience: Our platform makes it easy to find and book the travel options you need, all in one place. No more searching multiple websites or making multiple phone calls.
Expert support: Our team of experts is available 24/7 to help you with any questions or concerns you may have. We're here to ensure you have a smooth and stress-free experience.
Competitive prices: We work with multiple suppliers to bring you the best prices on flights, car rentals, and more. You can be confident that you're getting a good deal when you book with us.
Wide selection: Whether you're looking for a budget-friendly option or a luxury experience, we have a range of options to choose from. You're sure to find the perfect travel solution for your needs.
Peace of mind: We know that travel can be unpredictable, which is why we offer secure payment options and flexible booking policies. You can book with confidence knowing that you're in good hands.