Jodhpur, Rajasthan, India is a vibrant city full of culture and history. Located in the Thar Desert, the city is known as the "Blue City" because of the blue-painted houses that line its streets. From its majestic forts and palaces to its bustling markets, Jodhpur offers something for everyone. Here's a travel guide to help you make the most of your visit.
Getting There: Jodhpur is easily accessible by air, rail, and road. The airport is located about 4 kilometers from the city center and has direct flights to major cities across India. The railway station is located in the center of the city, and there are frequent trains to and from other cities in Rajasthan. The city is also well-connected by bus to other parts of Rajasthan and India.
Accommodation: Jodhpur has a wide range of accommodation options, from budget hotels to luxury resorts. For a unique experience, stay in one of the many heritage hotels located in the city.
Things to See and Do: Jodhpur is home to many historical sites, including the imposing Mehrangarh Fort, the grand Umaid Bhawan Palace, and the Jaswant Thada. In addition, the city has many beautiful temples and gardens, such as the Balsamand Lake and Garden. For a unique experience, take a camel safari through the Thar Desert.
Shopping: Jodhpur is a great place to shop for traditional Rajasthani items such as jewelry, textiles, and handicrafts. The city is also home to many lively bazaars, where you can find everything from spices to fabrics.
Eating Out: Jodhpur has many delicious restaurants serving a variety of cuisines. Try the local specialties such as Laal Maas (a spicy mutton curry) and Mirchi Vada (a spicy potato fritter).
Weather: Jodhpur has a hot, dry climate. Summers are hot and dry, with temperatures reaching up to 45°C. Winters are milder, with temperatures ranging between 5°C and 25°C.
With its rich culture and history, Jodhpur is a great destination for a memorable holiday. With this travel guide, you'll be sure to make the most of your visit to this vibrant city.
Events/Festivals:
Jodhpur is a city that celebrates its culture and traditions with gusto. From religious festivals to vibrant cultural events, there's something for everyone to enjoy.
The Marwar Festival is one of the most popular festivals in Jodhpur. Held in October, the festival celebrates the culture and heritage of the Marwar region. The festival features traditional folk music and dance performances, camel races, and a spectacular fireworks display.
The Gangaur Festival is another popular event in Jodhpur. Held in March or April, the festival celebrates the marriage of Lord Shiva and Goddess Parvati. During the festival, women dress in colorful clothes and decorate their hands and feet with henna.
The Nagaur Fair is one of the largest cattle fairs in India. Held in January or February, the fair is a vibrant celebration of the region's culture and traditions. Visitors can enjoy camel rides, folk music, and traditional Rajasthani cuisine.
The Jodhpur International Desert Kite Festival is a unique event that celebrates the traditional art of kite-flying. Held in January or February, the festival features kite-flying competitions, traditional Rajasthani music and dance performances, and a variety of food stalls.
Jodhpur is also home to many other festivals and events, such as the Jodhpur Music Festival, the Jodhpur International Film Festival, and the Jodhpur Literature Festival. With so much to see and do, Jodhpur is sure to be a memorable experience.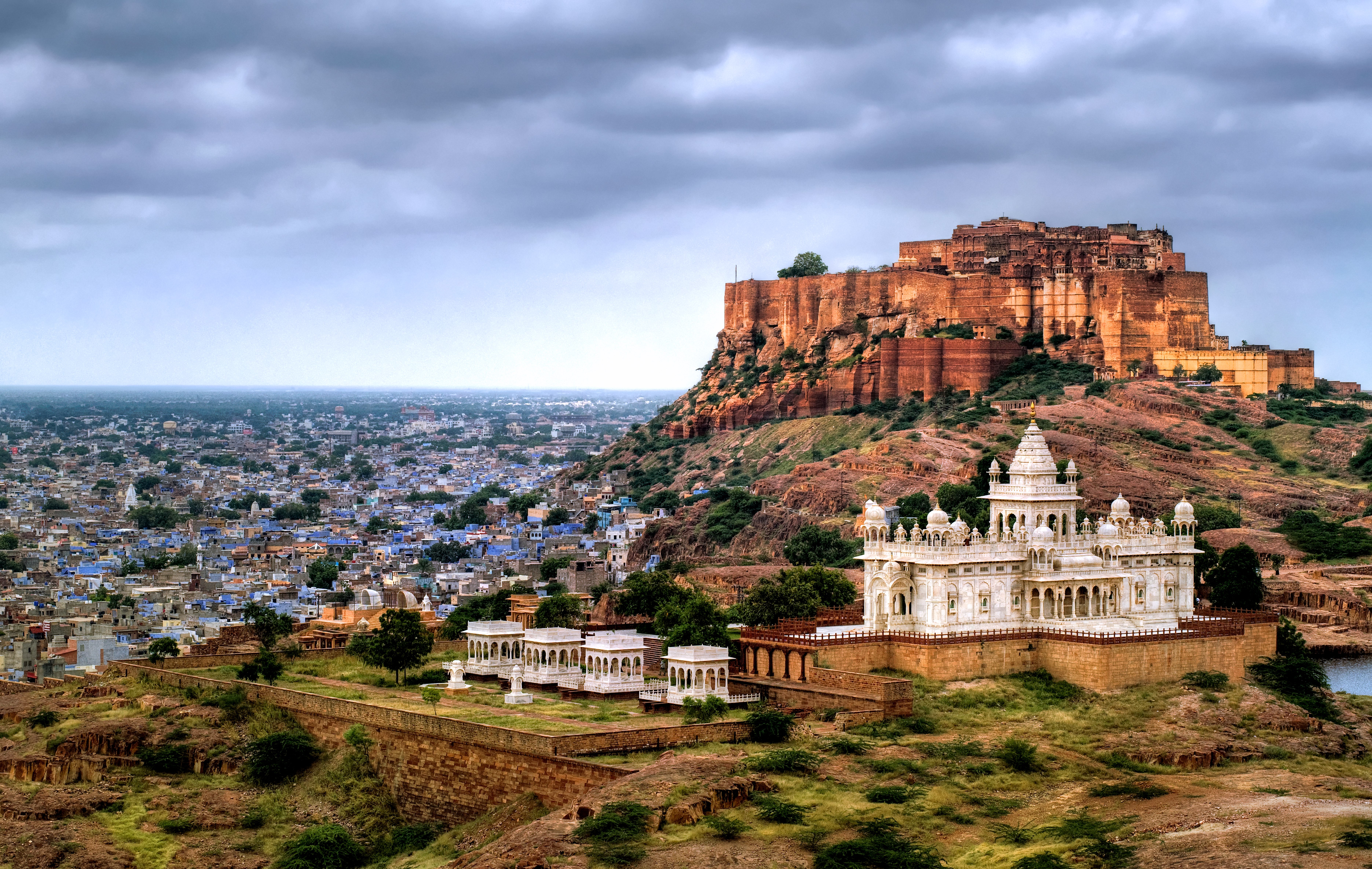 Location: Jodhpur is located in the northwest of Rajasthan, India, and is surrounded by the Thar Desert. The city is about 350 kilometers from Delhi and about 250 kilometers from Jaipur.
Food: Jodhpur is known for its delicious cuisine, which is a blend of traditional Rajasthani and North Indian flavors. Popular dishes include Laal Maas (spicy mutton curry) and Pyaaz Kachori (spicy onion fritters). The city also has many restaurants serving international cuisines such as Italian and Chinese. There are also plenty of street food stalls that serve up delicious snacks such as samosas and bhelpuri. For dessert, try the famous Mawa Kachori, a sweet pastry filled with mawa (condensed milk).
Jodhpur, Rajasthan, India is a vibrant, colorful, and culturally rich destination that is perfect for travelers seeking an authentic experience in India. The city is full of majestic forts, beautiful palaces, and stunning temples, as well as bustling markets and delicious cuisine. Whether you're a history buff, a foodie, or just looking for a great time, Jodhpur has something for everyone. From the iconic Mehrangarh Fort to the majestic Umaid Bhawan Palace, Jodhpur is a city that will leave you with unforgettable memories. So, if you're looking for an unforgettable adventure, make sure to add Jodhpur to your travel list!
To search for flights: https://aviasales.tp.st/BpZVTmNB
To search rent a car: https://discovercars.tp.st/zlth7VUe
To search for hotels: https://hotellook.tp.st/rTRN8i1V
To search for bike rental companies: https://bikesbooking.tp.st/MP1Prirj
For insurance: https://ektatraveling.tp.st/UsFCGShY
Adventures in cities: https://www.getyourguide.com/?partner_id=1IFTBRR&utm_medium=online_publisher&placement=%22other%22
There are many benefits to using these services, whether you're booking a flight, hiring a car, or exploring new destinations. Here are just a few reasons why you should choose us:ň
Convenience: Our platform makes it easy to find and book the travel options you need, all in one place. No more searching multiple websites or making multiple phone calls.
Expert support: Our team of experts is available 24/7 to help you with any questions or concerns you may have. We're here to ensure you have a smooth and stress-free experience.
Competitive prices: We work with multiple suppliers to bring you the best prices on flights, car rentals, and more. You can be confident that you're getting a good deal when you book with us.
Wide selection: Whether you're looking for a budget-friendly option or a luxury experience, we have a range of options to choose from. You're sure to find the perfect travel solution for your needs.
Peace of mind: We know that travel can be unpredictable, which is why we offer secure payment options and flexible booking policies. You can book with confidence knowing that you're in good hands.