The Kelpies are two giant horse head sculptures located in Falkirk, Scotland. They are the largest equine sculptures in the world and have become a popular tourist attraction in the area. Here is a guide to help you plan your visit to The Kelpies.
Getting There:
The Kelpies are located in the Helix Park, which is easily accessible by car, bus, or train. If you're coming by car, the closest motorway is the M9. If you're coming by bus or train, the closest station is Falkirk High.
Things to Do:
The Kelpies are the main attraction, but there is plenty to do in the area. If you're feeling adventurous, you can take a boat ride along the Forth and Clyde Canal. There are also walking and cycling trails around the Helix Park, as well as a playground and picnic area.
Events:
The Kelpies host a number of events throughout the year. In the summer, there are outdoor concerts, art exhibitions, and family activities. In the winter, you can enjoy a festive market and a Christmas lights display.
Tips:
Make sure to wear comfortable shoes and bring sunscreen, as the area can get quite hot in the summer. Be sure to check out the nearby Falkirk Wheel, which is a unique rotating boat lift. Finally, don't forget to take lots of pictures!
Festivals:
The Kelpies are also the site of some of Scotland's most popular festivals. The Kelpie Festival is held annually in June and features music, theatre, art, and traditional Scottish food and drinks. The Helix Festival is also held annually in August and features music, dance, and art performances. Finally, the Kelpies Night Market is held in October and features local food and craft stalls, as well as live music and entertainment.
No matter the time of year, there is always something to do and see at The Kelpies. From their majestic sculptures to the many events and festivals held in the area, The Kelpies are a must-see destination in Scotland. With its stunning views, rich history, and diverse activities, The Kelpies are sure to provide an unforgettable experience.
Location and Food:
The Kelpies are located in the Helix Park, which is a beautiful area with plenty of green space. The park is home to a variety of wildlife, including ducks, swans, and other birds. Nearby, you'll find a range of restaurants, cafes, and pubs, so you can easily refuel after a day of exploring.
If you're looking for a casual meal, there are plenty of takeaways and fast food restaurants in the area. For a more upscale experience, there are a number of fine dining restaurants that serve up traditional Scottish cuisine. Be sure to try the local delicacy, haggis, a savory dish made from sheep's offal and oatmeal.
No matter what type of food you're looking for, you'll find something to satisfy your appetite near The Kelpies. So come and explore the area and enjoy the local food and culture.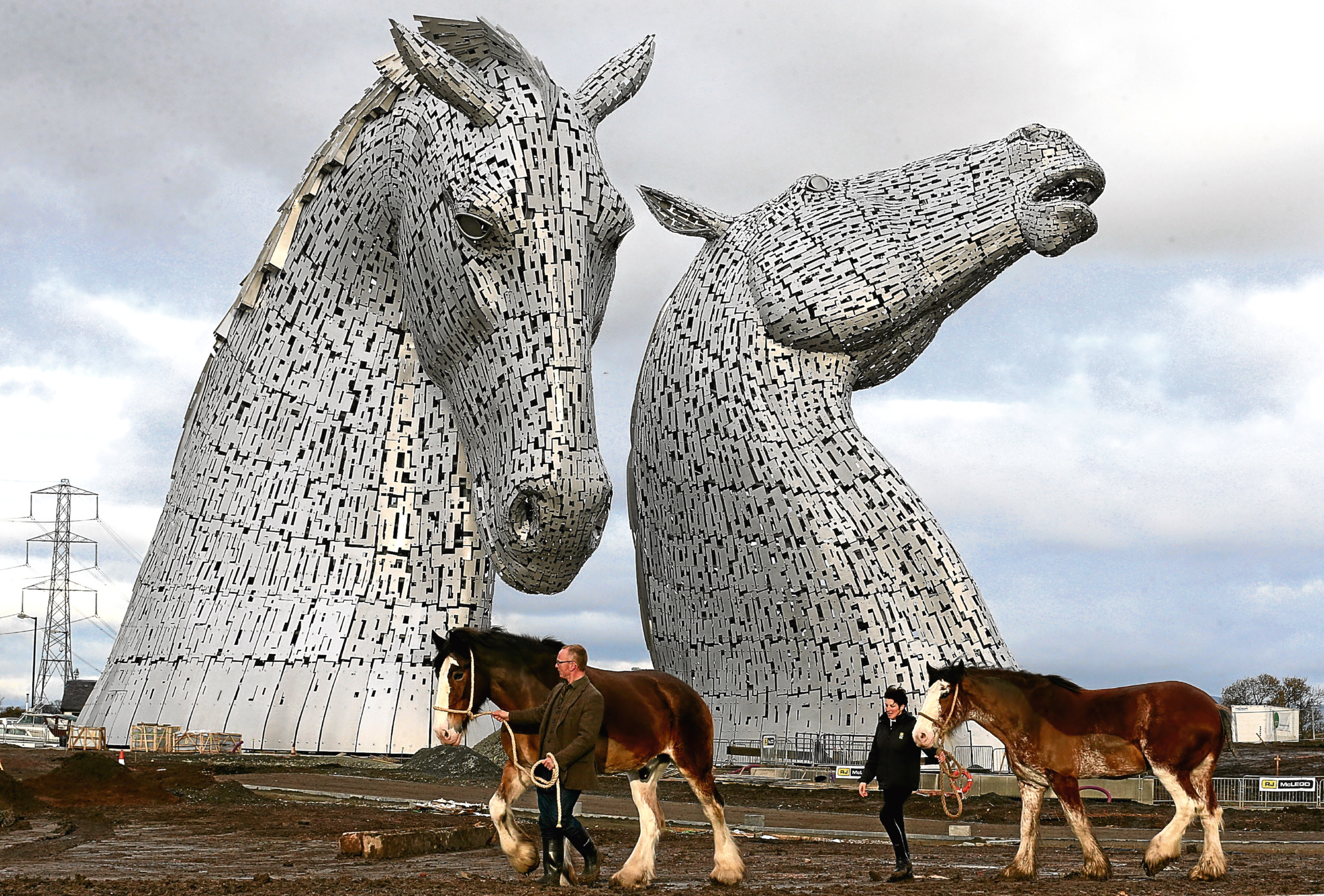 The Kelpies, Scotland, is a must-visit destination for any traveler looking to explore Scotland's breathtaking beauty. From the stunning architecture of the Kelpies to the majestic views of the River Forth, this area of Scotland is truly a sight to behold. Whether you're looking for a peaceful stroll through the countryside or an adrenaline-filled adventure, The Kelpies has something for everyone. With its rich history, stunning scenery, and plenty of activities to choose from, The Kelpies is the perfect destination for any traveler looking to explore Scotland.
To search for flights: https://aviasales.tp.st/BpZVTmNB
To search rent a car: https://discovercars.tp.st/zlth7VUe
To search for hotels: https://hotellook.tp.st/rTRN8i1V
To search for bike rental companies: https://bikesbooking.tp.st/MP1Prirj
For insurance: https://ektatraveling.tp.st/UsFCGShY
Adventures in cities: https://www.getyourguide.com/?partner_id=1IFTBRR&utm_medium=online_publisher&placement=%22other%22
There are many benefits to using these services, whether you're booking a flight, hiring a car, or exploring new destinations. Here are just a few reasons why you should choose us:ň
Convenience: Our platform makes it easy to find and book the travel options you need, all in one place. No more searching multiple websites or making multiple phone calls.
Expert support: Our team of experts is available 24/7 to help you with any questions or concerns you may have. We're here to ensure you have a smooth and stress-free experience.
Competitive prices: We work with multiple suppliers to bring you the best prices on flights, car rentals, and more. You can be confident that you're getting a good deal when you book with us.
Wide selection: Whether you're looking for a budget-friendly option or a luxury experience, we have a range of options to choose from. You're sure to find the perfect travel solution for your needs.
Peace of mind: We know that travel can be unpredictable, which is why we offer secure payment options and flexible booking policies. You can book with confidence knowing that you're in good hands.