Madurai, India is an ancient city located in the state of Tamil Nadu. It is known for its rich culture and history, and is one of the most popular tourist destinations in the country. Here are some tips to help you make the most of your visit to Madurai.
1. Get to Know the City: Madurai is a city steeped in history and culture, so take some time to explore and learn more about the city. Visit the Meenakshi Amman Temple, one of the most famous landmarks in Madurai. You can also visit the Thirumalai Nayak Palace and the Gandhi Museum.
2. Try the Local Cuisine: Madurai is known for its delicious South Indian cuisine. Make sure to try the city's signature dish, the Jigarthanda, a cold dessert made with milk, sugar, almonds, and spices. Other popular dishes include idli, dosa, and sambar.
3. Go Shopping: Madurai has a vibrant shopping scene with plenty of markets and bazaars. Visit the bustling Puthu Mandapam market for traditional clothing and handicrafts. Don't forget to check out the city's many jewelry shops for some unique pieces.
4. Explore the Surrounding Area: Madurai is surrounded by some beautiful natural attractions. Take a day trip to the Periyar National Park to see some of the region's wildlife. You can also visit the Kodaikanal Lake, a picturesque lake surrounded by mountains.
5. Enjoy the Nightlife: Madurai has a lively nightlife scene with plenty of bars, clubs, and restaurants. Head to the bustling Anna Nagar district for some of the best nightlife in the city.
Follow these tips and you'll have an unforgettable experience in Madurai. Enjoy your stay!
Events/Festivals in Madurai
Madurai is home to many vibrant festivals and events that take place throughout the year. One of the most popular is the Chithirai Festival, which is celebrated in April/May. During this festival, the Meenakshi Amman Temple is decorated with colorful lights and flowers, and the streets are filled with processions, music, and dance. The Teppam Festival is also held in Madurai, and is celebrated in February/March. During this festival, the deities of the Meenakshi Amman Temple are taken on a procession around the city on a decorated float.
The Madurai Music Festival is another popular event in the city. This festival features performances by some of India's best classical musicians and dancers. It takes place in February/March, and is a great opportunity to experience some of India's finest classical music.
The Pongal Festival is celebrated in January/February, and is a four-day harvest festival. During this festival, the streets of Madurai are filled with colorful decorations and people celebrating the new harvest.
If you're visiting Madurai in the summer months, don't miss the Ther Thiruvizha Festival. This festival celebrates the coronation of the Meenakshi Amman Temple's deities, and is celebrated with processions, music, and dance.
No matter when you visit Madurai, there's sure to be a festival or event that you can enjoy. From vibrant festivals to lively music performances, Madurai is sure to provide you with an unforgettable experience.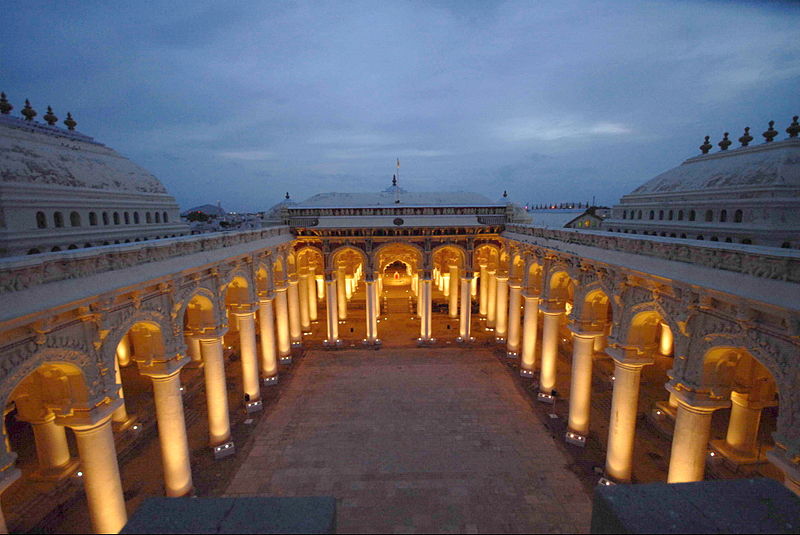 Food and Location: Madurai is a great destination for food lovers. The city boasts a wide variety of eateries, from street food stalls to high-end restaurants. Sample some of the city's signature dishes like jigarthanda, idli, dosa, and sambar. There are also several restaurants that serve international cuisine.
When it comes to accommodation, Madurai has something for everyone. There are several budget-friendly hotels, as well as luxury resorts and boutique hotels. The city is also home to several hostels, so you can find a place to stay no matter what your budget is.
No matter what type of traveler you are, Madurai has something to offer. Whether you're looking for a cultural experience, a foodie adventure, or a relaxing getaway, this city has it all. So come and explore Madurai and all it has to offer.
Madurai, India is an incredible destination for travelers looking to experience a unique culture and explore an ancient city. From the vibrant markets and ancient temples, to the delicious street food and friendly locals, Madurai has something for everyone. The city is also home to some of India's most beautiful temples, which are a must-see for anyone looking to experience the culture and history of India. Madurai is full of life and energy and is sure to be an unforgettable experience for any traveler. With its rich history, vibrant culture and stunning architecture, Madurai is an ideal destination for anyone looking to explore India.
To search for flights: https://aviasales.tp.st/BpZVTmNB
To search rent a car: https://discovercars.tp.st/zlth7VUe
To search for hotels: https://hotellook.tp.st/rTRN8i1V
To search for bike rental companies: https://bikesbooking.tp.st/MP1Prirj
For insurance: https://ektatraveling.tp.st/UsFCGShY
Adventures in cities: https://www.getyourguide.com/?partner_id=1IFTBRR&utm_medium=online_publisher&placement=%22other%22
There are many benefits to using these services, whether you're booking a flight, hiring a car, or exploring new destinations. Here are just a few reasons why you should choose us:ň
Convenience: Our platform makes it easy to find and book the travel options you need, all in one place. No more searching multiple websites or making multiple phone calls.
Expert support: Our team of experts is available 24/7 to help you with any questions or concerns you may have. We're here to ensure you have a smooth and stress-free experience.
Competitive prices: We work with multiple suppliers to bring you the best prices on flights, car rentals, and more. You can be confident that you're getting a good deal when you book with us.
Wide selection: Whether you're looking for a budget-friendly option or a luxury experience, we have a range of options to choose from. You're sure to find the perfect travel solution for your needs.
Peace of mind: We know that travel can be unpredictable, which is why we offer secure payment options and flexible booking policies. You can book with confidence knowing that you're in good hands.